Every now and then a project concept comes along that we just haven't done before. This one was no exception. We needed to create a multipurpose space for a busy mom in a hidden corner of their basement.
We had to
1: Punch through to the finished basement so that this added area seemed like it had always been there.
2: Create a layout that would be an office with a secret craft closet
AND
3: The most obvious of all…..make sure the new space was beautifully designed
Here is the future office and craft room area. Looking back at the hidden craft room space
The future office space.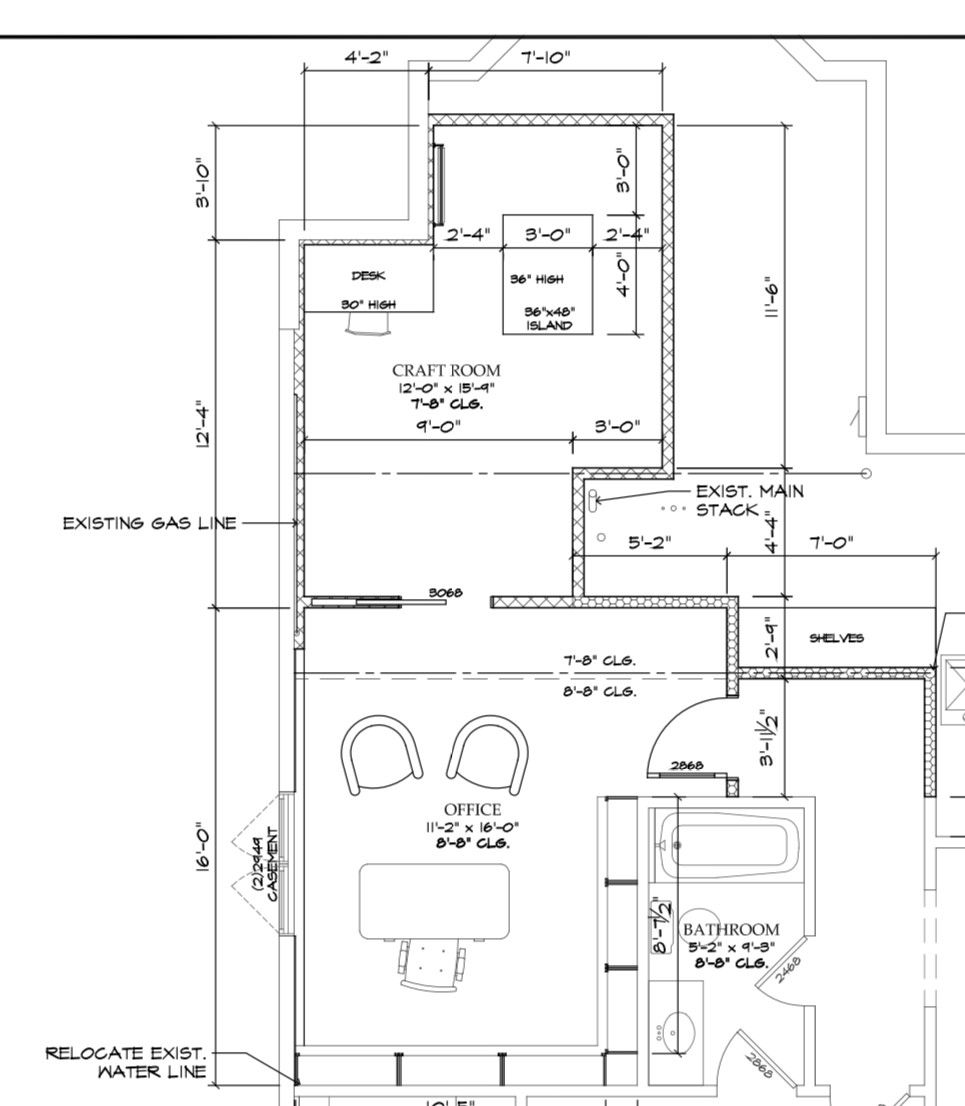 New office and craft room floor plan
I had so much fun working through all of the design eliminates for this future space with our client. It can be challenging when there is literally nothing to work from for inspiration. So I started by looking at her existing office to get a feel for what was going to live in this new space. I found inspiration in some of her beautiful book bindings, trinkets and treasures from her childhood that would find a new home in our custom built-ins and some oil paintings.
Incorporating reclaimed barnwood from her home state for the floors was something our client new she wanted from the start. The barnwood was plained to a smooth finish, installed and waxed to deepen the natural characteristics. I couldn't be more in love with these floors.
A dark navy blue is the perfect backdrop color and adds depth to the custom built-ins.
Warm brass sconces provide architectural interest and task lighting for the open shelves.
Here you can see the view through to the hidden craft room along with a secondary smaller built-in unit. Utilizing every square inch of space in these rooms provided many areas of purpose and organization.
The existing window all trimmed out so that you don't feel at all in a basement office.
Hidden craft room with massive amounts of space for multi purpose storage. A custom work table with a top made from the reclaimed barn wood floors.
Beautiful custom door for the new office entrance.
It's incredibly inspiring walking through these new rooms and seeing all of the hidden potential that was in the untouched concrete corner of the basement.