Functional! That was the key word for this 45 year old kitchen remodel. We obviously wanted to create a beautiful kitchen for these clients, but this space needed to be functional above all else and to be opened up as to not feel so crowded. By taking out the wall between the kitchen and living room, the kitchen instantly felt twice as large. We were able to add an island for extra seating and gain a ton of storage space.
The key to a functional kitchen is well-organized cabinet space. This is not a large kitchen, but the large pantry cabinet, rollouts, tray dividers, and door mounted spice rack made a huge impact in making this kitchen much more functional. The home owners not only gained storage, but countertop workspace by adding the island. The soffit was taken out so we could take the cabinets to the ceilings. This gave them more cabinet space for items they don't use as often and gave the room more visual height even though they only have 8' ceilings.
This kitchen did not have room for a dishwasher originally! While they didn't know any different, we knew we had to fix that. The sink was moved to the island and we were able to fit the dishwasher next to it. Updating all of the appliances instantly made this kitchen much more user friendly as well.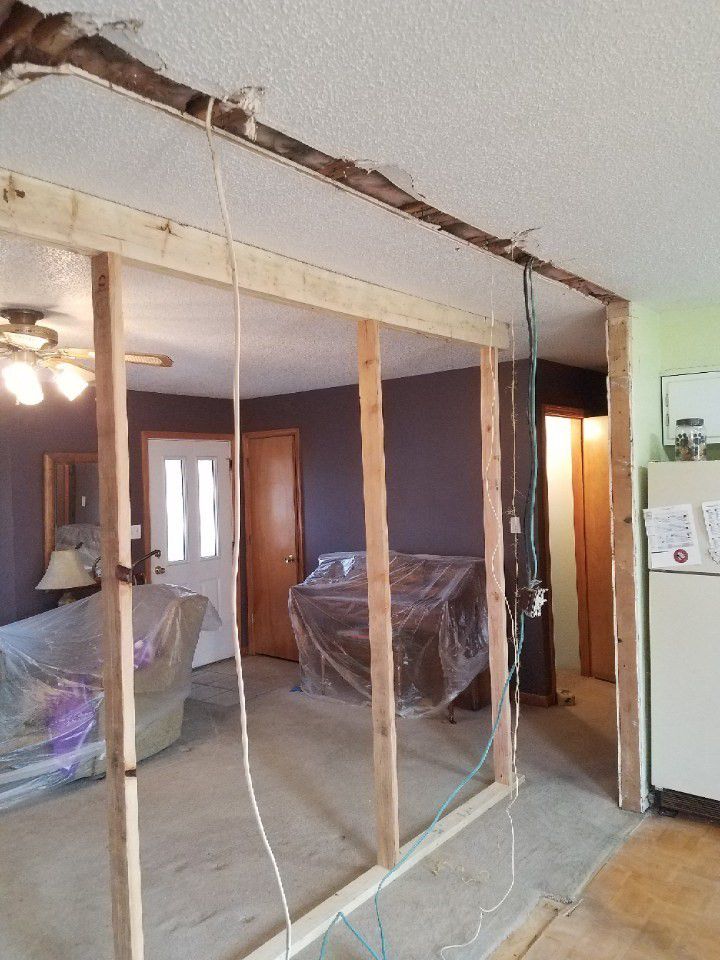 We chose a taupe, matte subway tile that has just enough gray to blend with the White Valley granite countertops. While the clients loved their plum living room walls, they were ready for a more neutral paint color. We chose Benjamin Moore Revere Pewter for the kitchen and living room. This brightened the space and allowed them to add pops of color in the living room rug, furniture, and artwork.
All of these changes along with getting rid of the popcorn ceiling texture, installing luxury vinyl plank flooring throughout the main area, and adding a sliding door to the deck, completely changed the look of this home. We gave them a comfortable living space and kitchen that feels bright, open, and most of all, functional!