"The details are not the details, they make the design"
~Charles Eames
Every job we do is different, but always has one common thread. To create a space that is a reflection of our client. It doesn't matter what room we are designing and remodeling we always want it to feel like an extension of the family that will be living there.
Our clients had built their house over 25 years ago and had grown into and then out of the spaces. They were tired and not as practical as they may have once been. Our discussions consisted a lot around giving new life to the same rooms they had been in for years. Better flow, function, and storage were key.
In addition to completely remodeling the main level of the home it was a priority to add a much needed mudroom by building out into the garage.
DEMO PLAN-PREVIOUS LAYOUT
NEW DESIGN PLAN
We were able to sacrifice some of the attached 2 car garage space since the homeowner had another detached 2 car garage. Relocating the doorway to the powder bathroom gave us everything we needed for this farming family so that they could come into the new mudroom with full access to the laundry and bathroom for cleaning up.
A darker tile with a natural stone pattern is very practical for the new mudroom, laundry room and powder bathroom. The old honey oak trim that was throughout the main level was updated to a soft white. It brightened all of the rooms and carried the white chosen for the kitchen perimeter cabinets into the adjoining rooms.
Using every square inch of the kitchen we were able to add more counter space, a pantry, hidden canning jar storage tucked beside the refrigerator and an area for wine glasses and bottles.
The kitchen now has a layout that works for cooking and entertaining.
Hardwood floors were feathered into the existing oak floors and carried into the living room and dining room.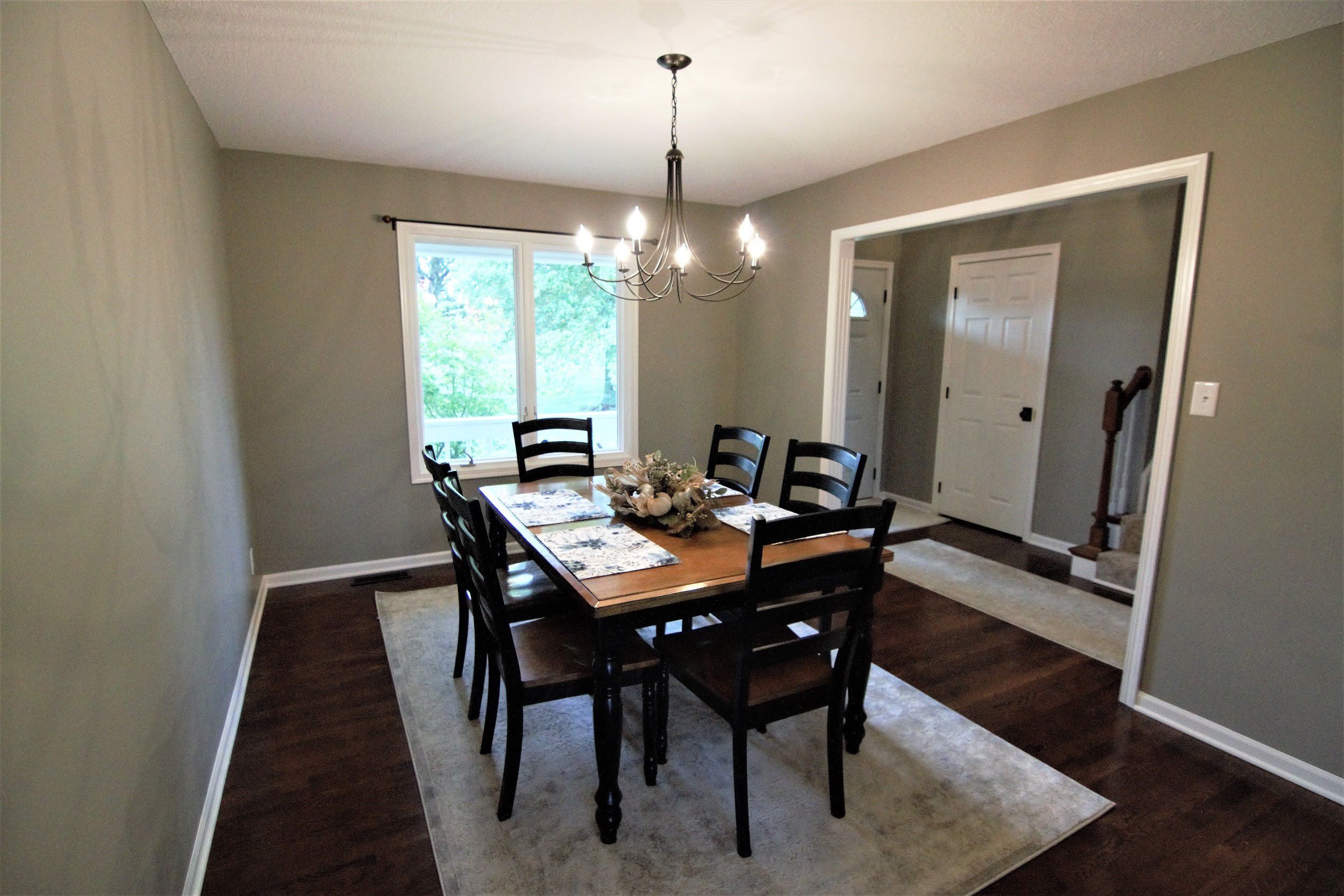 A rich dark stain was chosen to complement the new island and hood.
The old stair system was updated by re-staining the handrail, tread ends and newel posts. As well as painting the balusters and skirting the trim color and installing a decorative carpet runner.
Sticking with the same wall color throughout the rooms also helped to open everything up to each other. It doesn't feel repetitive, but creates a soft backdrop to compliment all of the beautiful finishes.