To me designing a kitchen can be like a dream. A series of thoughts, inspirations and imagination. The kitchen is consistently referred to as the "Heart of the Home". It can be the space that sets the tone for the entire house and is used by everyone who lives there. The kitchen is THE epicenter of the home.
The first day I rounded the corner of this kitchen I remember thinking that it felt like another homes kitchen had been plopped right smack in the middle of this house.
The kitchen was dark and it just didn't feel like a part of the house at all. The kitchen cabinets were all very nice and the granite tops were beautiful, but it was so uncomfortably not the kitchen for this house.
Re-working the long narrow shape of the space was the main priority. The current layout cut the space in half due to a doorway that was right in the middle of the entire wall space. This made the eat-in area completely disjointed from the kitchen area.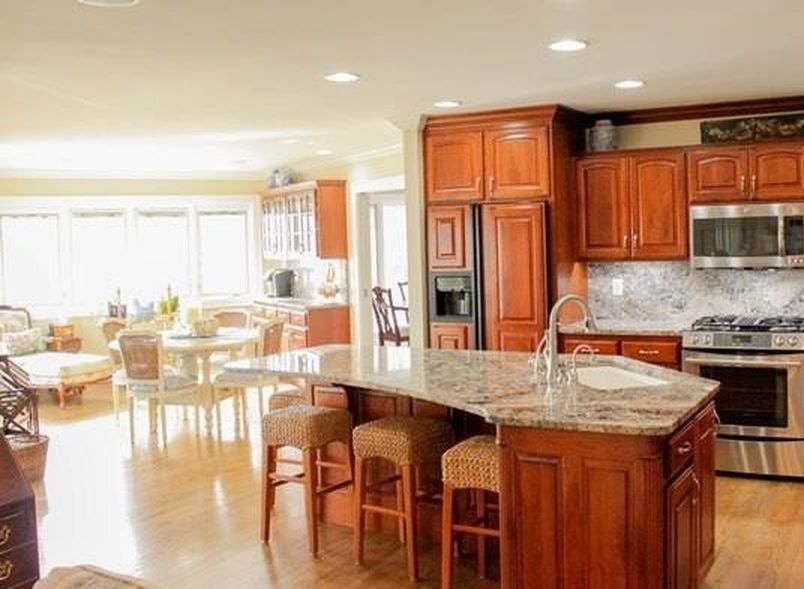 Moving the doorway, that went to the formal dining room, down the wall allowed for us to now extend the kitchen into that unused space. The overall area between the informal dining and the island was shortened so that those spaces could now have a relationship to each other. This allowed for a better flow for cooking and entertaining. As well as drawing your eye through the space and out the windows to their lake view.
Selecting cabinetry that gave us as much visual height as possible was extremely important. The 8' ceiling height, previous dark cherry cabinets, and adjoining vaulted ceiling made the previous kitchen feel cramped and dark. The new kitchen features white perimeter cabinets with a gray glaze to tie into the dark gray island. A marble look quartz countertop and full height gray crackle porcelain backsplash tile gives the space a clean and polished look.
Simple glass pendants were selected for the island so as not to block the view to the range wall or clutter the space.
Extending the cabinetry down the wall allowed for different zones to be created. A full height wine refrigerator and flanking pantry cabinets finish off the eat-in area of the kitchen perfectly.
A lantern style light in a polished nickel finish was the perfect statement piece for the eat-in area.
I absolutely love the soft airy look that has been created now, The view from the inside is nearly as beautiful as the view looking out to the lake.